The Library's 101 Flower Arranging Class Adds a Little Zing to Designs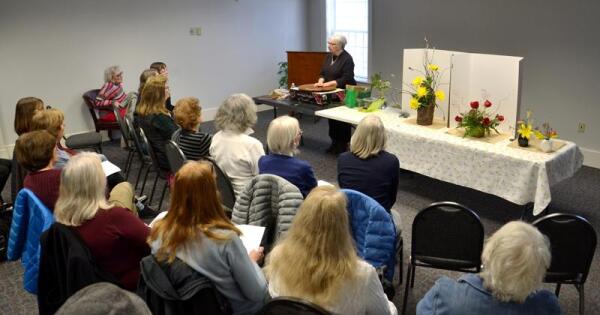 Posted: Feb 23, 2019 7:00 AM
"Each leaf, each flower, should have its own space," instructor Sandy Motyka told her Flower Arranging 101 class in the CH Booth Library meeting room on Feb. 15.
During the hour-long presentation, Ms. Motyka created several flower displays and shared her tips and tricks for turning a store-bought bouquet into a one-of-a-kind masterpiece.
The first arrangement of the afternoon featured half a dozen red roses and delicate pieces of baby's breath.
With Valentine's Day having recently passed, she said that by inserting whimsical elements, like a glittering red heart, into the oasis, it could add a focal point and a bit of "zing" to the design.
"There should always be a surprise," Ms. Motyka said, turning the arrangement over for the class to see.
From there, she placed green eucalyptus, with its seeds intact, intermittently throughout the arrangement for texture.
She added eight red, wispy artificial branches to extend the look of the design and explained that "longer lines are always elegant."
For the second floral arrangement, Ms Motyka started with an asymmetrical wooden basket from Shakespeare's garden which she filled with pussy willows, each individually wrapped in yarn.
Wire, she says, is to shape the branches into a desirable shape when the plant is cool and malleable. When you leave the wire in place overnight or longer, the branches may take on a more natural, less straight shape.
"You want things to look like they do in nature," Ms. Motyka said as she unwound the wire from each of the willow branches.
She made the shaped branches the backdrop for her floral arrangement and arranged them in an L-shape (some branches standing upright, while others veered sideways). From there, she added bright yellow chrysanthemums of varying heights and sizes to catch the eye.
Inserting the chrysanthemum stems into the oasis, she explained that not all flowers should face forward, but the smallest blooming flower should be shown as the tallest in the design.
To complete the floral arrangement, she filled the spaces with an assortment of greenery and thin sprigs of gray birch that she had collected from her garden.
For the final example, Ms Motyka showed the audience a pair of small pre-made arrangements she had created using flowers that would typically be thrown away.
She tore off the withered petals of the lilies to reuse the inner contents (the pistil/carpel and the stamen) and added pieces of reed to make circles.
At the end of the course, Ms. Motyka organized a raffle. Among the more than 20 people present, three winners had the opportunity to take home a floral arrangement of their choice.
Each attendee received a handout containing Ms. Motyka's helpful tips for supplies, preparing materials, specific information on placement and how to add 'pow' to their own flower arrangements.
His last advice mentioned on the list? He said, "Relax, put on some good music, and enjoy creating!"
For more information on flower arrangement, email Sandy Motyka at [email protected].
During Flower Arrangement 101 at the CH Booth Library, instructor Sandy Motyka shared her tips on the tools, placement, and "pow" needed to create a custom flower arrangement.
Sandy Motyka transforms a chrysanthemum arrangement, halfway through its completion, for the Flower Arranging 101 class to see the design.
Instructor Sandy Motyka adds baby's breath to a rose arrangement during Flower Arrangement 101 on Feb. 15.
Pictured on the left is a full arrangement of chrysanthemums and willows, an arrangement of roses and baby's breath, and two small arrangements of reeds and lilies.
Instructor Sandy Motyka showed attendees how to make an arrangement of chrysanthemums and willows during Flower Arrangement 101. —Bee Photos, Silber
CH Booth library clerk Terry Tortora was one of three winners selected to win a flower arrangement at the end of the Flower Arranging 101 course on February 15.