The flower changes the lives of businesswomen in Balkh province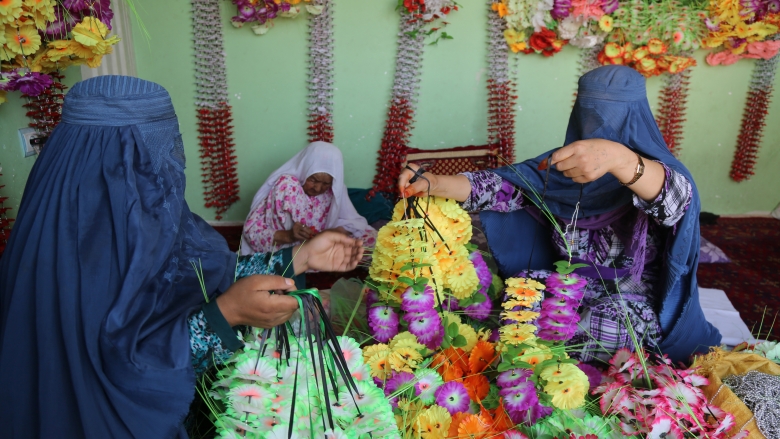 YAKA BAGH VILLAGE, Balkh Province – Zahra, 40, arranges plastic flowers and beads in a newly built room in her house. She carefully separates the flowers and threads them with the beads, artistically arranging them. The floor of the room is filled with colorful flowers, threads and beads.
Zahra was working as a tailor, but stopped sewing when she heard about First MicroFinance Bank Afghanistan (FMFB-A). "I got a first loan of 50,000 Afghans ($ 850) from First MicroFinance Bank Afghanistan two years ago. It has been a big help to me, I can make a living now, "says Zahra.
The loan from FMFB-A enabled him to make plastic flowers and sell them in the market. Zahra, who lives in a seven-member home in Yaka Bagh village, Dehdadi district, Balkh province, has been deprived of an education like other women in the village. She cannot read or write, but ambition has made her a hardworking and intelligent florist.
"It gives me a very good feeling to make and sell my own products. When I see people buying and using my products, my self-confidence increases even more, "says Zahra, mother of five. After starting her business, she took out another 100,000 Afghan bank loan ($ 1,700) to expand her business.
Zahra's access to credit was made possible through the Afghanistan Microfinance Investment Support Facility (MISFA). MISFA aims to contribute to the economic growth of Afghanistan by developing a viable and inclusive financial sector for the poor and underserved small and medium enterprises. It has received financial support from the World Bank's International Development Association (IDA) and the Afghanistan Reconstruction Trust (ARTF) since 2003. In November 2013, IDA provided $ 50 million the access to finance project, which provides additional support for access to financial services for micro, small and medium-sized enterprises.
With support from MISFA, FMFB-A, which operates in 13 provinces, is able to offer financial services to small businesses, which would otherwise have difficulty obtaining loans due to their size. FMFB-A began offering financial services to its clients in Balkh Province in 2007, and has so far attracted 2,500 active clients, supplying a total of 92 million Afghans ($ 1.5 million ) in business loans. Women represent more than a third (35%) of its clients.
Most of the recipients of the bank's loans were in difficult economic times and managed to turn their lives around with these loans. The bank has provided a good platform for those who wish to develop their small businesses, according to Mustafa Khayber, manager of the FMFB-A branch in Balkh. "In addition to providing financial services to clients, FMFB-A offers advice for improving clients' businesses," he says. "He also facilitates the exchange of expertise and ideas in all aspects, especially in marketing, between his old and new clients.